Welcome to
kuantan usaha jaya trading
sdn. bhd.
Loading ...
training pictures
No flash player!
It looks like you don't have flash player installed. Click here to go to Macromedia download page.
LEVEL-3 FINAL EXAM (2014)

No flash player!
It looks like you don't have flash player installed. Click here to go to Macromedia download page.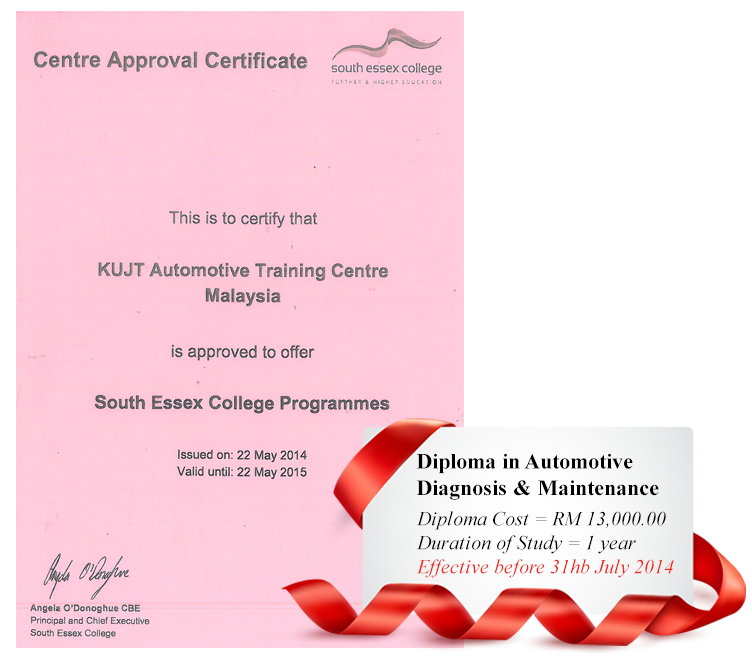 Do you have a Strong interest in automotive?
Do you believe that the automotive industry can offers a great potential for your future?
The automotive is a active and developing industry. The number of the car and technology is advancing. The need for qualified automotive technician is increasing rapidly! If u are graduate with solid training and experience, you will be employ by automotive dealership like a bar of golden!
Just Become a graduate with solid training and experience person now, Check out our SKM program in modern automotive technology to assist and help you to get onto the right path toward achieving success.
Loan Service available!
Company background
This company was incorporated since 08 August 2002, It's Major activities are to carry out the business for training and development of skill in maintenance and repair of motor vehicle and other related mechanical equipment. For this affords, our company has awarded the status by Government ( Jabatan Pembangunan Kemahiran - JPK ) for Level 1, 2 & 3 as one of the Training centre for Automotive in Kuantan area.
Facilities
KUJT is located in the heart of Kuantan and equipped with modern facilities :

2 class room complete with projector


Jet Lift


Spray Painting Bay


Mudguard Bay


Jack & Machinery


Welding set


Crane / Tow Truck


Forklift


Diagnostic tools – Hanatech Multi Scan tool


Workshop Hand Tools and Special tools


Post Lift (4 unit)

JPK was established under the Ministry of Human Resources on 2 May 1989, for the purpose of promoting and coordinating skills training strategy and program in keeping with Malaysia's technological and economic development needs. JPK's main objectives are:-

To establish a coordinated skills training system attuned to Malaysia's development goals and needs


To promote the development of skills training


To certify skills competence

The policy changes were fundamentally geared towards improving the quality and productivity of the country's skilled workforce, thus enhancing the competitive position of the Malaysian economy at large. The changes also sought to co-ordinate more effectively the diverse skill training activities carried out by both the public and private sectors in the country, and to gear them towards meeting the actual needs of the Malaysian industry. The basic thrusts of the reforms were-
Skills Training Opportunities in Malaysia
In the late 1980s, rapid economic growth in Malaysia led to an acute shortage of skilled manpower, especially in the manufacturing sector. The skill shortage worsened into the 1990s, leading to the establishment of the Cabinet Committee on Training. In its Final Report published in 1991, the Cabinet Committee recommended sixteen (16) broad policy directions in order to reform and strengthen the training delivery system. The proposed measures are grouped under three (3) main policy objectives:-

Level 1 - Mekanik Kenderaan Motor (P-115-1)


Level 2 - Mekanik Kenderaan Motor (P-115-2)


Level 3 - Mekanik Kenderaan Motor (P-115-3)

The course is designed for a systematic learning approach with the inclusion of the latest technological advances in motor vehicle servicing and diagnostics techniques. This will enable the students to utilize equipment and resources to achieve the practical skills as required.
The aim of the qualification is for people who work or want to work as technicians across a range of vehicle types. It allows learners to learn, develop and practice the advance problem solving and diagnostic skills required for employment and/or career progression in the Automotive sector.
Mode Of Training

Partime Class


Fulltime Class


Medium of instruction

Yearly


Admission Criteria

Minimum 16 Years and above


Strong interest in automotive


Face to face interview

Loan

KUJT Resources to assist in loan application for qualified student. ( approval depend on decision by PTPK )
>>>Register Online